From hurricane landfalls to tornado chasing, our meteorologists have experienced weather phenomena that truly show the danger, beauty and force of the natural world. In this recurring blog series, we tell real weather stories from their unique perspectives.
In this edition, our technical meteorologist Amanda Walker shares her on-the-ground experience of Hurricane Harvey – watching it form, strengthen and devastate the Houston area with record flooding – and the humanity that stepped up to help.
Houston, the city in which I was born and raised, is no stranger to flooding. Its sprawling metropolis is nestled in a subtropical region primed to receive, on average, 50" of rainfall each year (the national average is 30"). Numerous creeks, bayous and rivers run through different sections of the city before converging on the east side at Galveston Bay. Heavy inland rainfall also naturally drains through the city on its way to the Gulf of Mexico. Flooding is a part of life for Houstonians, and the city has built dams, reservoirs, and levees to handle the added stress. Nature, however, always finds a way to test our limits.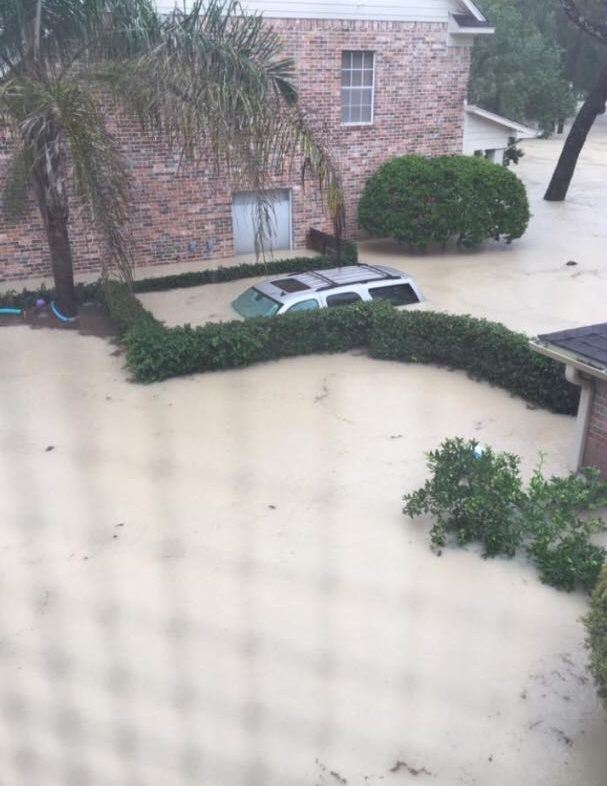 Enter the 2017 Atlantic hurricane season. On Aug. 17, a storm named Harvey formed east of Barbados. It tracked west and, two days later, died out without much fuss. The National Hurricane Center (NHC) stopped issuing advisories, and everyone breathed a sigh of relief. But Harvey wasn't done yet. On Aug. 23, the storm regenerated and, over the next 48 hours, rapidly intensified to major hurricane status. It made landfall near Rockport, Texas, late on Aug. 25, and after battering the area with intense winds and storm surge, Harvey stalled and drifted southeast, moving back out to the Gulf of Mexico to skirt along the Texas coastline for the next few days.
It was during these days that history was made in Houston. This movement out into the gulf fueled the constant rainfall that put the fourth largest city in the U.S. under water. Unfortunately, much of the preparation done by the city and its residents fell short.
My parents, both long-term residents of the city, and I kept a close eye on Hurricane Harvey as it developed. We share earth science backgrounds, and with our collective knowledge and experience, we knew what tools to focus on: the local river gauges and the NHC advisories.
A scientific background is sometimes as much a curse as it is a blessing because it provides a clearer understanding of the stakes. As each new update and advisory was released, a pit grew in my stomach. We knew the stakes of Harvey were high, and they scared me enough to prep my car for evacuation, but my parents and I ultimately decided to watch and wait with a plan at the ready.
There's a feeling of disconnect whenever I think about my experience during Hurricane Harvey. Though the flood waters did not reach our house, the area where I grew up on the other side of the city was devastated by a dam release upstream. I saw videos on Facebook of people driving boats through my high school parking lot and pictures from old neighbors of cars nearly submerged by the waters.
Beyond my hometown, I watched on our local news channels as the "Cajun Navy," average people with boats and trucks and a desire to help, rescued hundreds of people and animals across Houston. I listened as people wept and raged and lamented how this could have happened, sometimes bringing the reporters to tears.
Everyone in Houston now understands what a 1-in-1,000-year flood event looks like and what it can do. I was thankful to have my and my parents' backgrounds along with tools to help us gauge our risk and plan for the storm. But I also recognize that not everyone was as well equipped; knowing where to look and what to trust can make all the difference.
Writer Bio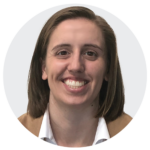 Amanda Walker is a technical meteorologist at Athenium Analytics; she works with a wide variety of meteorology projects, but specializes in hurricane-related work, especially for BeaconHurricane. She was born and raised in Houston, Texas, and holds two degrees in meteorology: her bachelor's from Texas A&M University and her master's from Pennsylvania State University. Her main areas of interest are tropical cyclones and communication, both influenced by her experience with Hurricane Ike in 2008. She spends her free time practicing karate and playing Dungeons & Dragons.
Through this knowledge and experience, Athenium Analytics creates weather solutions your business can count on to deliver the data, risk analysis and alerts you need to protect your insurance investments, clients and bottom line.
GaugeFlood provides property-level risk scores to help you determine risk levels and visualize damage and claims potential.
BeaconHurricane forecasts and tracks storm paths to help you plan your storm response and see coverage exposures in real time.
DexterHurricane helps you settle claims faster with hyperlocal post-storm analytics to map the areas hardest hit and triage claims as they are filed.
To claim your free demo of these solutions, contact our expert sales staff today.