From hurricane landfalls to tornado chasing, our meteorologists have experienced weather phenomena that truly show the danger, beauty and force of the natural world. In this recurring blog series, we tell real weather stories from their unique perspectives.
In this edition, our technical meteorologist Kyle Noel shares his first storm chase near the eye wall of Hurricane Arthur off the coast of North Carolina in 1997 when he was only 19.
In July of 2014, I was 19 and working a summer job at a warehouse. As a UNC Asheville meteorology student, I was looking for some excitement and itching to go storm chasing. Unexpectedly, Hurricane Arthur approached the coast of North Carolina right in time for July 4. As it intensified toward Wilmington as a Category 1 storm, I decided that I was not going to wait around for a tornado to do my first real chase — I was going to chase a hurricane instead!
My parents were skeptical of my plan and told me not to go near the beach, but I convinced them the storm was not really anything "strong" … even though I knew it had the potential of becoming a Category 3 hurricane. I hopped into my 2005 Volvo SB40 and took off.
My original plan was to embed myself in an area sure to experience hurricane-force wind, and the timing looked right to intercept Arthur in New Bern. Unfortunately, two hours later I had driven through intense thunderstorm bands, but in New Bern the wind speeds were rather tame at about 20 mph. Hurricane Arthur's eyewall was still off the shore of Wilmington, so I was ahead of action in the forward left quadrant of the hurricane.
On Oak Island, though, there were reports of 70+ mph wind, so I headed down U.S. Highway 17 from New Bern to Wilmington. This drive was a bit unnerving as tornado warnings were all over the place. I had to keep my weather radar on to ensure I did not drive blindly into a tornado. I arrived on an island just outside of Wilmington. Access to Wrightsville Beach was still open, even as Hurricane Arthur's eyewall roared offshore. It was the closest to an eye I'll ever get … unless I decide to do another overnight chase again.
Hurricane Arthur was upgraded to Category 2 and was hours from making landfall as the strongest hurricane to hit U.S. in six years. I scouted the island for free parking before parking behind a hotel. I got out and walked the beach, observing storm surge of a few feet. By this point, wind gusts were up to 40-50 mph. Wet sand was pelting my face and body. I was able to film Hurricane Arthur's conditions on my iPhone while getting completely soaked. My atmospheric pressure readings hit 1001.5 millibars. A few dumb teenagers ran across the beach and into the surf for a swim. The eye was only 20 miles off the shore. The whole scene was surreal.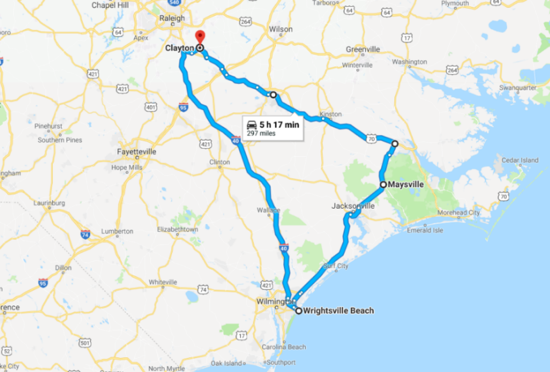 I was walking back to my car when a police officer pulled up next to me. I thought I was in trouble, but she hopped out of her police car, walked right by me and marched to the beach to chase after the teenagers. It was all starting to become a little too exciting, so I started my 2-hour drive back to Raleigh.
In the end, I had disobeyed my parents by going to the beach, even though I knew the hurricane was not strong enough to produce devastating storm surge and I was on the weak side of the hurricane. I figured it was safe enough to ignore my parents … but they still took my phone away for a week. Ladies and gentlemen, at 19, that was the last time I was ever grounded.
Writer Bio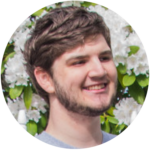 Kyle Noel is a meteorologist and associate analyst at Athenium Analytics. He received a B.S. in atmospheric sciences from the University of North Carolina at Asheville and is finishing his graduate certificate in geographic information systems at North Carolina State University. He plans to apply to a master's program in Spring 2021. He plays a critical role writing hurricane bulletins for our clients as part of our BeaconHurricane team. He is a semi-professional photographer and adventurous traveler. He is also profoundly deaf with a cochlear implant and lives in Raleigh, N.C., as one of our remote employees.
______
Do not let poor conditions ground your hurricane response. The Athenium Analytics hurricane response suite is the premier hurricane analytics tool for insurers to track, plan, alert and triage major tropical storms and hurricanes.
Our software includes extended 10-day storm forecasts, daily hurricane alerts, post-event weather forensics and aerial imagery for the hardest hit areas. Our tools provide everything you need to manage resources and claims before, during and after a major hurricane makes landfall.
To get your free demo of our hurricane analytics solution, contact our expert sales staff today.