Assess property hazards, replacement costs & portfolio risk in a single, detailed report.
Leverage proprietary risk modeling, aerial imagery analytics and reliable structural data to generate actionable risk intelligence to measure the climate resiliency of your business using the property risk report damageability insights.
Assess structural & natural hazard risks across your portfolio
The property risk analytics solution from Athenium Analytics delivers deep, actionable intelligence on both structural and natural hazard risks for any U.S. property.
This unique offering combines computer vision technology and powerful risk analytics trusted by top global insurance carriers, with detailed intelligence distilled into a single report.
By packaging key insights from both technologies, this data-driven solution offers robust property intelligence reports that enable you to analyze, quantify and mitigate risk across your entire portfolio in a changing climate.
Snippets from a sample property risk report
Submit your portfolio, get risk intelligence for each address
Learn how the property risk analytics bundle delivers actionable property risk insights across your portfolio.
Analyze your entire portfolio nationwide
With complete coverage across the contiguous U.S. (CONUS), the property risk analytics bundle allows you to understand exposures across your entire commercial or residential portfolio.
Quantify replacement costs using local data
Our proprietary damageability model incorporates building size, materials, location and other factors to provide a reliable dollar value to help you understand true replacement costs.
Assess the true threat of storms & perils
Our natural hazard risk scores analyze the frequency & severity of 11 separate perils and quantify property risk with clear, 1-10 scores. This same technology is trusted by some of the nation's top insurers.
Write new business & inform policy renewals
Armed with actionable risk intelligence for each address, your team of underwriters or investors can make smart, data-driven decisions about new & existing properties to protect your bottom line.
Model local/regional risk appetite & capacity
This address-level data helps you assess portfolio risk on a macro level. Understand how local property exposures and liabilities fit into your wider portfolio and adjust based on risk appetite.
Generate accurate pricing & rating data
By gaining a deeper understanding of both structural and natural hazard risks, your team can make informed decisions about premium pricing, mortgages, reinsurance and more.
Understanding the property risk variables & scores in your report
Structural risk attributes
The standard property risk report includes the following variables, which are derived from a combination of aerial imagery analytics, proprietary risk modeling and local property data. This same technology was recently used to assess more than 80,000 structures for the U.S. military:
Replacement costs
Year built
Number of stories
Building square footage
Construction type
Occupancy
Roof footprint
Roof condition (including sub-data)
Roof type & material
Solar panels
Skylights
Vegetative overhang
In-ground or above-ground pool
Trampoline
Natural hazard risk scores
The property risk report delivers 1-10 natural hazard risk scores for each address, built on decades of historical data. Visit the Gauge risk scoring page to learn more about the details. Reports contain individual scores for 11 perils, including:
Hail
Straight-line wind
Tornado
Ice storm
Winter storm
Intense rainfall
River flood
Flash flood
Hurricane wind
Hurricane surge
Wildfire
Earthquake 

(for 9 states along the New Madrid fault line)
Delivering your property risk report
This service leverages proprietary risk modeling and aerial imagery analytics that is cross-checked with reliable property & structural data to generate clear and actionable risk intelligence. Our computer vision algorithms analyze each address and generate a full list of risk attributes to help you assess exposures across your portfolio.
Simply send us your book business and you'll receive back a detailed list of risk scores and attributes for each address. The reports are delivered in a flat-file spreadsheet, allowing you to easily scan, sort or export your risk data for further review. API delivery may be possible for high-volume clients.
Property API: Assess risk with 60+ variables across 150M+ addresses
Nationwide database of commercial & residential properties across the contiguous U.S. (CONUS), searchable by address, with support for both single & bulk location requests
Proprietary property & roof replacement cost models for both commercial and residential properties

Subclass replacement costs for garages, roofs & windows
Regional modifiers to account for changes in labor costs
New! Replacement cost models reflect 2022 inflation
Detailed building & structural attributes for single- and multi-structure properties, including:

Gross & living area square footage
Roof square footage, construction & materials
Number of stories (and more)

Granular geospatial & parcel insights, including full address, geocode, latitude/longitude, zoning info and distance to the nearest fire station, among others
Property ownership & tax data, including assessed values, total market value, recent transactions, properties per parcel and owner details
Need a better way to analyze property risk across your portfolio?
Amid rising real estate prices and record-low inventory, investors continue to snap up commercial and residential properties. Meanwhile, insurers are wrestling with the rising costs of severe weather threatening properties nationwide.
Roofs are a big factor in the inspection and underwriting process, but data like square footage, year built, replacement costs, swimming pools and local weather risk all influence premiums and purchase decisions. However, this data can be difficult to find and track over time without a dedicated property risk reporting solution. Discover all the property risk factors you need to consider, and how Athenium Analytics can help you analyze all these risks in a single report.
On-demand webinar: Enhance your property-risk reports
Insurers and property investors often struggle to find reliable data for new and existing properties. As many learn the hard way, assessing true property risk requires more than just self-reported data from owners and agents. Many users rely on free mapping tools, use cheap data aggregators or buy multiple reports for a single property.
With rising property values and severe weather risks, it's more important than ever for investors and underwriters to understand the property risks across their portfolios. Learn how this new technology can help.
Learn more about the technology behind the reports
IRIS – AI-enabled imagery analytics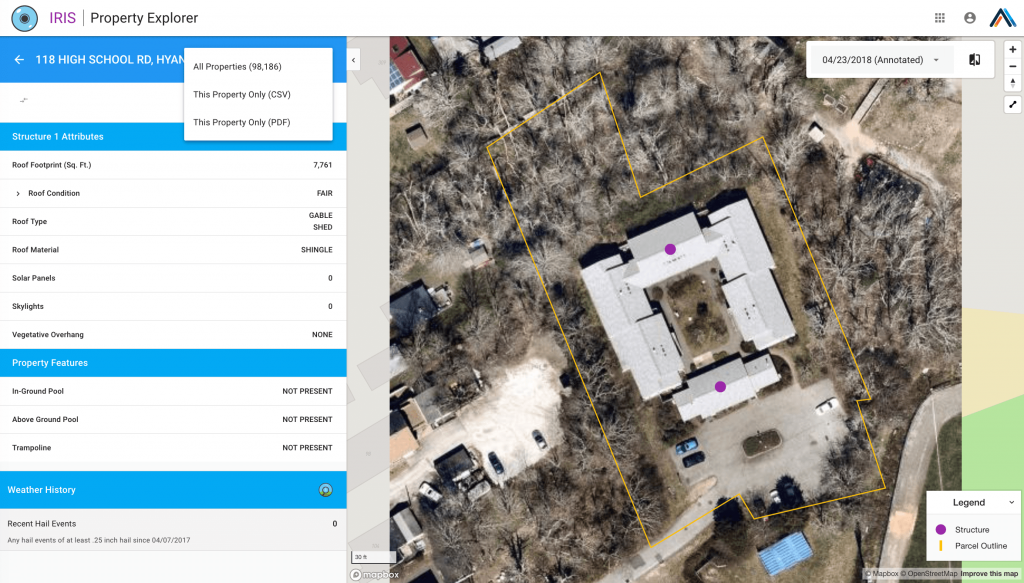 Much of the the property and structural insights available in this risk report are delivered by the IRIS aerial imagery analytics platform. IRIS uses aerial imagery and proprietary computer vision technology to identify key property risk attributes without an on-site inspection.
Gauge – Natural hazard risk scoring
The natural hazard risk scores inside the property risk analytics report are delivered by the Gauge platform. The Gauge dashboard uses proprietary risk modeling and decades of historical data to produce actionable, 1-10 risk scores for 12 separate perils across the contiguous U.S.
Product support
Call (888) 320-7693 or email us at support@athenium.com
Let's get started
Request a sample file, get custom pricing, or speak with a member of our team.