Athenium Analytics has released three new product enhancements in September across our suite of weather risk analytics products: GaugeFlood adds the flash flood peril, Dexter offers enhanced reports and DexterHurricane includes Tropical Storm Imelda data.
Our team of scientists, engineers and software specialists are constantly reviewing user feedback, feature requests and market use cases to deliver customers more value across insurance, finance and construction. New product updates are available every month and are documented in this recurring blog series.
Let's take a closer look at this month's enhancements.
Gauge adds flash flood peril
GaugeFlood now includes flash flooding as a peril in our Gauge hazard risk scoring suite. The flash flood peril has its own risk scores and attributes, including modeled 50-, 100-, 500- and 1,000-year storm runoff depth, soil runoff potential, land use/land cover and property elevation. The solution also displays FEMA maps as a visual layer.
New design for Dexter reports
Our engineers have updated the Dexter Event and Historical Report exports to mirror the recent formatting change in Gauge. In addition to the refreshed output in the export, we've also added additional customization that allows users to select which perils and details they'd like to include in the report. Updates to the Dexter Seasonal Reports are scheduled for later this year.

Imelda data in DexterHurricane
Even though Tropical Storm Imelda never reached hurricane status, it became the fifth wettest tropical cyclone on record in the continental U.S. Its rainfall totals reached 43 inches in some areas, causing devastating floods in southeast Texas. Post-event storm data for Imelda is now available within DexterHurricane.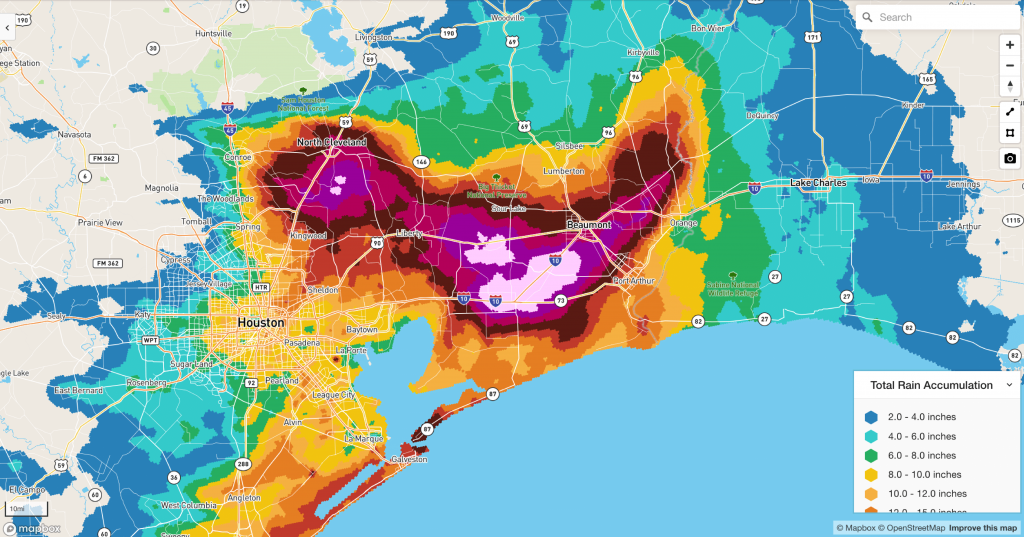 We look forward to your continued feedback and encourage you to share interesting use cases and feature requests that we can incorporate into our products moving forward. For more details about these new features – or to add new products/perils to your subscription – please reach out to your account manager by email or through our contact page.