Meeting demand for AI-based insurtech tools
Artificial Intelligence (AI) is arguably the biggest insurance industry trend at the moment, with capital pouring in from insurers, tech companies and venture capital to find the next insurtech unicorn. A 2017 study by Accenture found that "75% of insurance executives believe that AI will either significantly alter or completely transform the overall insurance industry in the next three years." But despite the appetite for insurance-focused AI solutions, claims and underwriting automation is still very much in its infancy.
The promise of AI and machine learning for insurance
The insurance ecosystem is filled with startups selling chatbots, big data algorithms, and touchless claims tools that vow to revolutionize the historically risk-averse insurance industry. The promise that bots will manage P&C claims from start to finish is an exciting one – removing friction and human intervention from claims intake, processing, fraud detection and customer service. Underwriters and risk managers are also searching for the next generation of tools to help streamline workflows and free up time, money and personnel. Demand exists for better, more practical insurtech tools that can be implemented now—intuitive software that can help teams save money this quarter. Athenium Analytics is using AI and predictive analytics across our product suite to deliver better insights and analytics to more than two dozen of the top 100 insurance carriers. One popular AI-driven tool is IRIS, the aerial imagery property analysis dashboard for insurers.
IRIS – geospatial imagery analysis & property risk assessment
IRIS is a web-based aerial imagery mapping dashboard for insurers that uses computer vision to analyze aerial photos and provide valuable property intelligence and risk data. The IRIS machine learning algorithm examines aerial photos to identify key attributes and risk factors for a variety of property types, including residential homes, commercial buildings, agricultural areas and other critical infrastructure. Users type an address into the IRIS interface to automatically retrieve the latest aerial photo(s) and an AI-annotated list of property attributes that can help insurers make smarter coverage decisions about properties. IRIS uses AI-based machine learning to help claims and underwriting teams streamline everyday tasks like policy renewals, claims verification, fraud detection and tracking risk factors for commercial and residential properties.
Features & functionality of IRIS imagery analysis software
AI property attribute detection
IRIS deploys computer vision to detect and label the following attributes from geospatial images:
Roof type (flat, gable, gambrel, etc.)
Roof material (gravel, metal, shingle, etc.)
Roof condition (good, fair, poor)
Roof footprint (square footage)
Swimming pools (above and below ground)
Skylights
Solar panels
Trampolines
Vegetative growth
The aerial photos, mapping and property features help underwriters quickly understand key risk factors and avoid potentially expensive claims down the line. With IRIS, insurance teams can view updated risk snapshots of any property across the country—right from a computer. That not only cuts down on travel expenses, but also the need to hire local contractors for roof inspections at remote properties. IRIS also integrates with Dexter, our weather verification and analytics platform, to list major weather events like hail, ice storms and damaging winds.
Aerial imagery comparisons & change detection
Another core feature of IRIS is change detection for aerial imagery. IRIS stores historical aerial photos of each property so users can track changes over time—quickly comparing side-by-side images from different dates. Change detection gives users insight into changing risk factors, including deteriorating roofs or overgrown trees. It also enables insurers to infer other details based on new imagery. How are the conditions of the driveway and lawn? Is the new living room addition permitted by the city? Is that a hot tub in the backyard? IRIS change detection can help teams efficiently track property changes, verify weather-related damage claims, and process annual renewals with clear data.
Bringing computer vision & deep learning to insurance
IRIS is differentiated from other AI software for insurance because it delivers insights using computer vision and deep learning. Computer vision is a branch of artificial intelligence that applies AI techniques to help computers process and interpret images the same way a human might. Computer vision is one of the key processes used in the development of autonomous vehicles. In fact, the same computer vision techniques used by self-driving cars to help avoid obstacles are also used by IRIS to help interpret property risk factors from aerial imagery. Athenium Analytics has built a team of data science and machine learning experts to help perfect our computer vision tools for the world's biggest insurance carriers.
Powering IRIS property analysis with deep learning algorithms
Another secret to IRIS computer vision is a sophisticated deep learning algorithm. Deep learning is a subset of machine learning where algorithms can not only solve complex problems, but also improve in speed accuracy over time with minimal human invention. The IRIS deep learning algorithm continually improves as it processes new aerial images, becoming more accurate and sophisticated every week.
Dr. Mario Christoudias, Director of AI Data Science at Athenium Analytics, explains more about what makes IRIS computer vision unique:
"Unlike 'hand crafted' features, deep learning solutions learn image features from the bottom-up to compute rich, hierarchical image representations tailored to the task at hand. The initial layers of the representation often correspond to low-level features like corners and edges while later layers learn the high-level appearance of objects and their parts. IRIS employs patent pending proprietary algorithms to provide a highly accurate prediction of both the geometry of property structures as well as their attributes."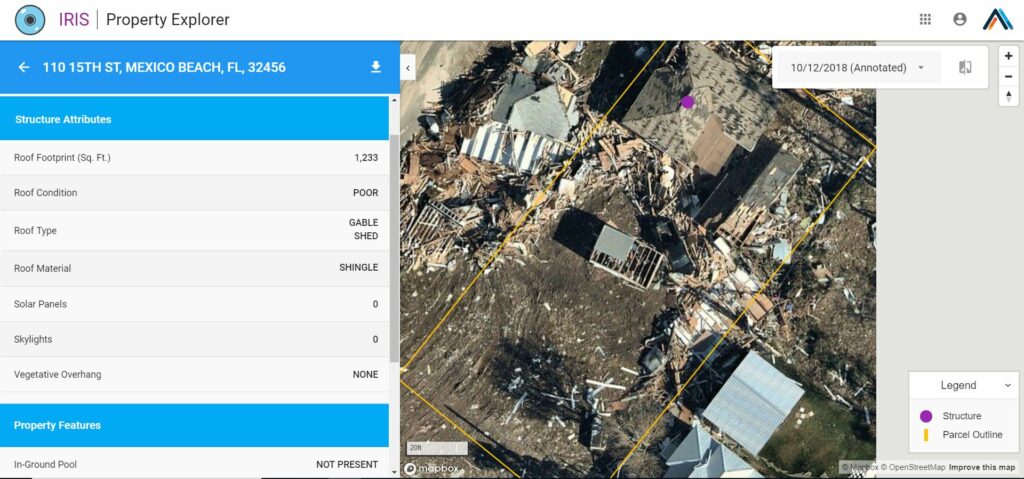 Thanks to this deep learning network (and our talented team), IRIS has become one of the most powerful computer vision tools in the insurtech marketplace. Insurance carriers large and small use IRIS every day as part of their claims and underwriting toolkits. And as IRIS' deep learning algorithms become faster and more powerful, the product will deliver more remote-sensing technologies to our customers. That includes computer vision functionality not just for insurance carriers, but enterprise users across construction, real estate, agriculture and more.
As the insurance industry races to find the next big AI-powered tool, we believe it's already here. If you're interested in an IRIS demo or want to discuss how our computer vision and deep learning tools can help your business, let's start a conversation. We're always looking for new partnerships to deliver practical and profitable AI technology.