The teamthink accelerator for ClaimCenter 9.0 is now available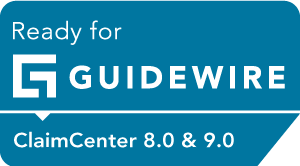 While the teamthink claims & underwriting audit suite is essential for so many of our clients, we know that it's just one piece of your carrier's tech stack. That's why our product team works hard to ensure teamthink remains compatible with other popular products that your team relies on, including business intelligence (BI) software and claims management systems. Because of that, we're proud to announce that teamthink is now compatible with version 9 of Guidewire's ClaimCenter.
Renewing our Guidewire solution partnership
Athenium Analytics first joined the Guidewire ecosystem in November 2017, signing on as an official solution partner and launching a teamthink accelerator for ClaimCenter 8. This month, we're proud to reaffirm our Guidewire partner status and continue offering native teamthink capabilities inside the popular CMS with a brand new version of our Ready for Guidewire accelerator.
The latest version of the teamthink accelerator for managing claims quality is now available in the Guidewire marketplace. Discover how the new accelerator helps users seamlessly share claims between teamthink and ClaimCenter.
Benefits of the teamthink Guidewire accelerator
The teamthink accelerator from Athenium Analytics integrates ClaimCenter 9 with the market-leading teamthink QA software. Prefill audits with claim data and access teamthink features from inside ClaimCenter, including review assignments & action items. Key benefits include:
Expedite audits by prefilling questionnaires with claims data
Enhance file selection/assignments by pulling claims data inside teamthink
Access review assignments quickly in the ClaimCenter activities list
Manage teamthink action items inside ClaimCenter
Pull employee hierarchies from ClaimCenter for use in teamthink audits
Access teamthink instantly with your ClaimCenter account using single sign-on (SSO)
If your team currently uses both teamthink and Guidewire's ClaimCenter, the accelerator makes it easy to share data back and forth between the platforms. We encourage all Guidewire users to learn more about the accelerator and how it can help streamline claims audits across your organization.
Please note: The Guidewire accelerator is not compatible with teamthink Envoy at this time.
To learn more about the teamthink ClaimCenter accelerator, download the product sheet below or reach out directly to your teamthink account manager for more details. Request a demo of the Guidewire Accelerator now »
View the Guidewire Accelerator product sheet »
Learn more about the teamthink QA suite for insurance »