Our team of scientists, engineers and product leaders are constantly reviewing user feedback and market needs to deliver more value for our clients. Product updates are released every month and key features will be documented in this recurring blog series.
Product enhancements released on Tuesday, June 2, include new updates to BeaconHurricane forecasts, Dexter impact reports and GaugeConstruction lightning alerts. Our team has also been working hard on the new AXA Construction Ecosystem, which launched last week. To learn more about the ecosystem and our collaboration with AXA XL, read the announcement here.

BeaconHurricane precipitation forecasts
The Atlantic hurricane season officially began on June 1 and our team has been working hard on product updates for the 2020 season. Last week we announced new customized BeaconHurricane exposure reports and updates to our popular BeaconHurricane alert emails – read more about these updates here.
This week, we're deploying new precipitation forecast swaths inside BeaconHurricane as well. These precipitation forecasts are calculated using a weighted algorithm that blends multiple hurricane model forecasts together. The precipitation forecast swaths are now available alongside our hurricane storm tracks and wind speed forecasts, both of which use the same proprietary algorithm. These new forecast swaths can be found by clicking on the swath forecasts tab inside BeaconHurricane.
Does your carrier need better tools to manage hurricane season? Learn more about our hurricane risk analytics suite here.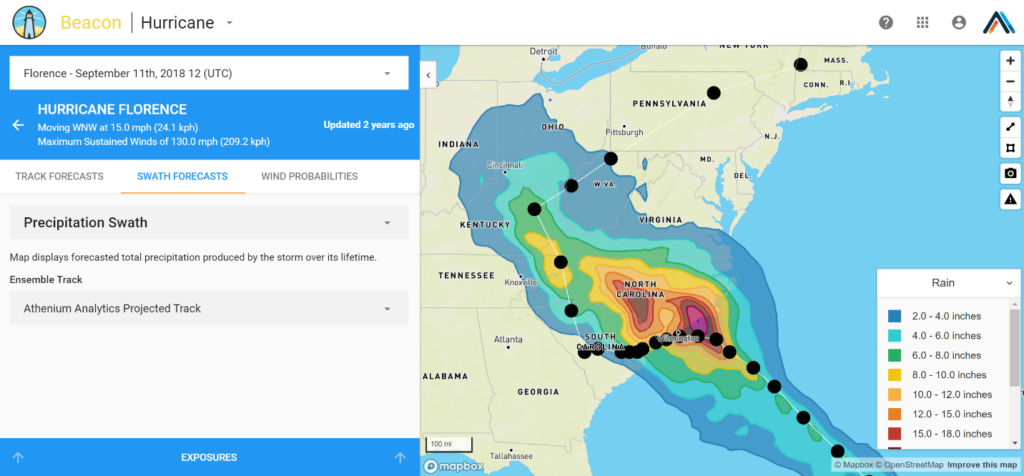 Dexter impact report updates
Dexter impact reports are our automated book-of-business assessment reports that provide insurers with daily, post-event summaries of locations that experienced severe weather. Historically, these reports contained a client-specific list of impacted locations, along with the peril, severity and timestamp of the corresponding weather event. This week, we've rolled out new functionality based on feedback from our clients. In addition to the data that was previously provided, the updated reports now include columns for the policy address, city, state, zip code, policy number and TIV. These new enhancements help provide insurance carriers with more comprehensive, actionable insights after severe weather events.
GaugeConstruction alert-specific lightning mapping
Inside GaugeConstruction, our weather risk management dashboard, users now have the ability to click on a project's lightning push notification for visual reference of the alerted strike's location. Clicking on an alert brings the user to the map page to view the strike that triggered the alert. This gives users the ability to verify each lightning event that affects their jobsite, providing an additional layer of project-level insight.
We look forward to your continued feedback and encourage you to share interesting use cases and feature requests that we can incorporate into our products moving forward. For more details about these new features – or to add new products/perils to your subscription – please reach out to your account manager by email or through our contact page.