Tropical Storm Arthur provided an early springboard into the Atlantic hurricane season, which officially begins on June 1. Early forecasts are predicting 2020 to be an above-average season. The Tropical Meteorology Project at Colorado State University (CSU) is predicting 16 named storms, four of which are expected to reach major hurricane strength (category 3 or above). The CSU forecast points to the absence of El Niño and warmer ocean temperatures as the primary factors for higher hurricane activity this year.
As always, the Athenium Analytics meteorology team will continue to provide BeaconHurricane alert emails throughout the season. These curated emails are designed to help insurers monitor imminent tropical systems and quickly understand the potential impact on their book of business. These free email alerts have been wildly popular with clients because they contain all the information insurers need to assess exposures, including current conditions, potential impacts, watches/warnings and the projected path from our proprietary 10-day forecast model.
New BeaconHurricane exposure reports
This year, we're pleased to offer Athenium Analytics customers several enhancements to make it easier than ever to manage the hurricane season. This includes improvements to our current BeaconHurricane alert emails and brand new BeaconHurricane exposure reports that provide each insurer with a customized .csv spreadsheet showing all their property exposures within a hurricane's latest projected path.
BeaconHurricane exposure reports are free for all Beacon clients and available for any insurer who uploads their policies into the Beacon interface. Beacon customers who opt-in will receive automated reports with a spreadsheet containing a list of all their exposures and TIV within the storm's projected path. Exposure reports can be customized to fit your needs – the threshold to begin receiving reports can be set to Tropical Storm, Cat 1, etc. and the reports can be delivered once or twice daily.
These new exposure reports are based on feedback from customers and development partners who needed a better way to understand the potential impacts of each storm on their unique books of business. While one insurer may only write business along the Florida coast, another may have policies across the mid-Atlantic. The new exposure reports help each carrier quickly understand which insureds may be impacted by an approaching storm  and the total insured value of all at-risk exposures from their portfolio.
Enhancements to BeaconHurricane alert emails
This year we're making several key changes to our BeaconHurricane alert emails, including a new design and delivery schedule. Our alerts will continue to be written by our meteorology team and remain free for all Athenium Analytics customers – but it will be easier to find the details you care about.
New alert format
This year we're introducing a new email template that makes it easier to quickly find and digest key forecast details relevant to your business. The intro paragraph in every alert now includes a dollar figure range for the estimated structural value in the path of the upcoming storm. These estimated structural values are generated by our scientists using nationwide property data and updated for each alert based on the latest projected hurricane path. Note that this figure is the same for all our BeaconHurricane alert subscribers – it incorporates all properties in a projected storm path rather than a customized list based on your portfolio. In order to receive customized exposure reports tailored to your portfolio, speak with your account manager about adding a subscription to our Beacon forecast and alert dashboard.
We've also refined these alerts with more concise sections organized by theme and separated by clear subheadings. Each alert email now contains 4 focused sections:
Current Conditions
Forecast
Potential Impacts
Watches/Warnings
Each section will have its own short list of bullets and contain only the details our meteorologists deem essential as the hurricane develops. Each email will also contain a screenshot of our latest 10-day hurricane forecast, including the projected storm path and key timestamps. See the screenshot below for a complete look at the new email design.
New alert schedule
Based on client feedback, we're adjusting the BeaconHurricane alert schedule in 2020. This year our meteorologists will continue to provide daily email alerts for named tropical storms, sent every morning at 9 a.m. Once a U.S. landfall appears imminent, our team will provide updates 2x daily, at both 9 a.m. and 6 p.m. This updated schedule ensures that BeaconHurricane forecast alerts are not only timely, but also contain new and relevant details in each email.
As the 2020 Atlantic hurricane season approaches, we look forward to providing you and your team with curated hurricane alerts throughout the season. If you're not currently subscribed to our BeaconHurricane alert emails, please send your name and email to info@athenium.com to sign up. These alerts are free to all Athenium Analytics customers and are packed with data from our industry-leading 10-day hurricane forecast.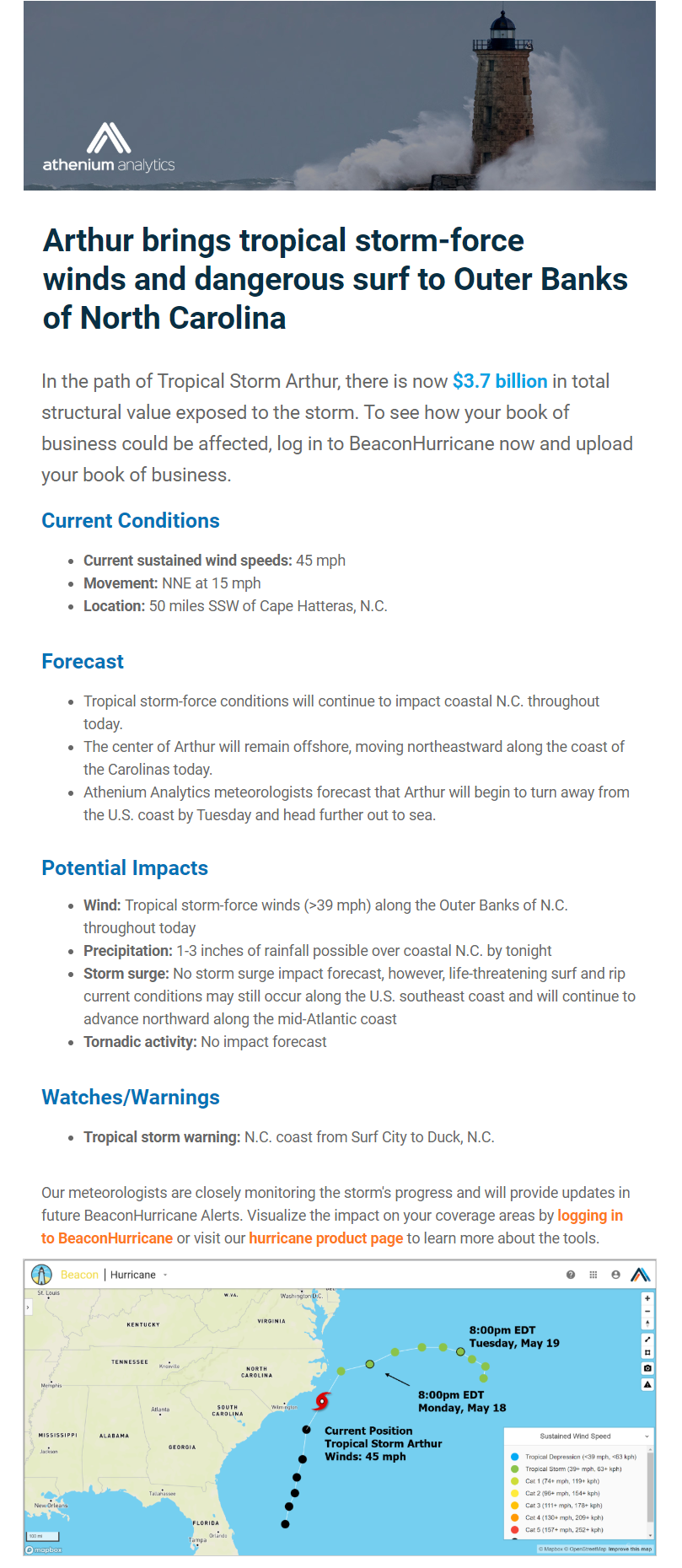 Click here to learn more about our hurricane risk analytics tools »