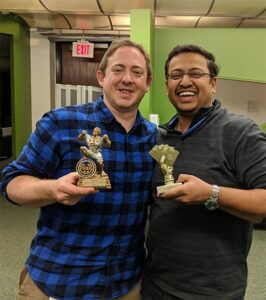 February was Insurance Careers Month, a time where insurance carriers and brokers highlight the many job opportunities available across the insurance sector. As traditional insurers work to attract young talent, that often means adjusting the culture, perks and work-life balance to attract millennials as they start their careers. As many employers discover, above-market pay isn't enough to attract and retain top talent. Great employers also provide an engaging office culture, flexibility and the opportunity to make an impact. At Athenium Analytics, we think every day about how we can provide these things to our team, and we are constantly thinking about the future – including the vast potential technology has to change insurance. As PC360 points out in a recent article, the insurance industry is undergoing a shift that "requires a new arsenal of skill sets that includes data analysis, predictive modeling, data science, software development, coding, research, AI and more." There's no doubt that Athenium Analytics is helping to drive that transition and we're proud to have the industry's finest talent on our side.
Sticking to our insurtech roots
No, Athenium Analytics isn't an insurance carrier, but we are deeply involved in the industry. We build elegant solutions to solve some of the insurance industry's toughest problems. Our teamthink software is the gold standard for insurance QA and our full suite of claims and underwriting tools is trusted by more than two dozen of the top 100 US insurance carriers. Our recipe for crafting solutions that solve the industry's most pressing problems is simple: hire the best people we can find, give them the tools they need, and then empower them to make an impact. Being a small company with a relentless focus on talent development enables us to move quickly, innovate, and rapidly fill market needs.  Being small also means we have more freedom to shape the culture that will attract the best and brightest – a virtuous cycle constantly spinning to benefit our clients.
Attracting top industry talent – and outside perspectives
Hiring employees with P&C expertise provides valuable insights into the operations of some of the world's largest insurance carriers. Intimately understanding the workflow of underwriters, claims managers and QA professionals helps us deliver powerful, user-friendly tools to solve the problems that insurance teams face every day. But the real magic happens when you combine insurance expertise with cross-functional insights from our meteorology, data science, and engineering teams. Great things happen when assembling bright people from different areas and asking them to solve tough problems. Our team includes PhDs, business executives, former TV meteorologists and experts in the fields of computer vision, predictive analytics and atmospheric science. The key is being able to understand old problems and see them in new ways.
The merger – managing culture across three offices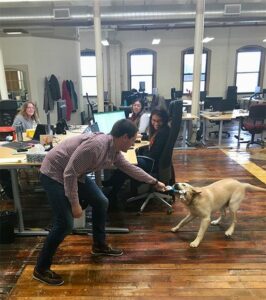 After Weather Analytics merged with Athenium, Inc., in 2018, Athenium Analytics was officially born. Through the merger, our company added a third office, as well as the fantastic team behind the market-leading teamthink quality assurance software. As Athenium Analytics matures, we have been thoughtful with our policies and perks as we build a unified culture across our three offices – in Washington, DC; Dover, NH; and outside of Boston, MA. Our largest office—with just shy of 60 employees—is located in Dover, on the New Hampshire seacoast. The office is on the top floor of a refurbished mill building and sits along the Cocheco River. Our Massachusetts office is in major tech hub—just outside Boston.
Both New England offices benefit from the deep talent pool coming out of Boston's universities and tech companies. We also have a number of employees who work remotely from states across the country including California, Florida and New Jersey. We're proud to have dozens of women serving as leaders and contributors across our science, tech and product departments. And Athenium Analytics is a vocal advocate for #WomenInTech and #SheCanSTEM movements.
Perks & culture
With three offices and 100 employees, Athenium Analytics may not qualify as a startup anymore. But we've managed to retain many of the popular startup perks people love, while also providing more robust benefits that early-stage ventures simply cannot afford. We offer perks like free snacks, beer and cold brew coffee; plus, ping pong tables, employee discounts, comfortable couches and work-from-home days. More importantly, we offer competitive salaries, a 401k match, company-paid life insurance and fantastic health/vision/dental benefits that all start within your first 30 days.
But ultimately, one of the most popular "perks" of working at Athenium Analytics is the autonomy you get working as a member of a small departmental team – including the freedom to brainstorm new ideas and run with them. As a SaaS company, we know that many of the day-to-day responsibilities can be performed anywhere in the world. And Slacks, emails and phone calls can be answered anywhere as well. So ultimately, each team can manage its own schedules, meetings and deadlines. That provides employees with flexibility to adjust how or where they work as needed.
As the insurtech landscape continues to change, we're always looking for new ways to attract the insurance industry's best talent. Interested in learning more about career opportunities at Athenium Analytics? Great timing. We have five new InsurTech job postings we're looking to fill across our three offices. Visit our careers section to see if one might be a perfect fit.