During the overnight hours of March 2-3, 2020, the greater Nashville, Tenn., area was struck with multiple tornadoes, including an EF3 that stretched over 50 miles in length and a rare EF4 with wind speeds in excess of 175 mph in nearby Putnam County. These tornadoes caused incredible damage and loss of life.
Insurance carriers are among the first on scene to help residents assess damages and recover from the devastation of such events. However, it can be several days (or even weeks) until the National Weather Service releases its final damage assessments. That's why weather forensics tools like Dexter are essential for helping insurers respond quickly in areas that sustained the most damage.
Today, Athenium Analytics is proud to announce a significant enhancement to the Dexter tornadic storm algorithm that reduces latency and delivers more granular storm tracks. This update will help our customers better assess damage and triage claims in the aftermath of events like the Nashville tornado. You can also overlay exposures to understand which policyholders in the Nashville area may have been affected. The new storm tracks and damage signatures can be seen by logging into Dexter and selecting the tornadic storm peril in DexterTracker.
Dexter's tornado algorithm update
The new Dexter product reduces latency from 2 hours to as little as 30 minutes so you can access potential tornado tracks faster than ever. It also provides start and end times down to the minute so you can better understand when and where damages occurred. The update also brings key changes to the DexterTracker interface with three tornadic storm layers to determine whether, where and at what strength a tornado has occurred:
Tornadic Storm layer tracks rotation within a thunderstorm.
Tornadic Debris layer tracks debris that has been lofted into the atmosphere; this can include branches, trees, housing materials, automobiles and wildlife.
Significant Tornadic Debris (EF2+) layer highlights tornadic debris cells with characteristics typically associated with tornadoes of a rating of EF2 or higher.
Dexter's proprietary, gap-filling algorithm produces a consistent track of the tornadic storm and any debris signatures with an 80% probability of detection within 10 miles of all surveyed tornado points.
The newly updated product captured the Nashville area tornadic event. Less than hour after the tornado touched down, Dexter had mapped the track and debris signatures. The magenta layer (pictured below) shows large swaths of significant tornadic debris (EF2+) across the densely populated East Nashville area. This was later confirmed by the NWS damage assessment, which found a long-track tornado with EF3 damage over the same area.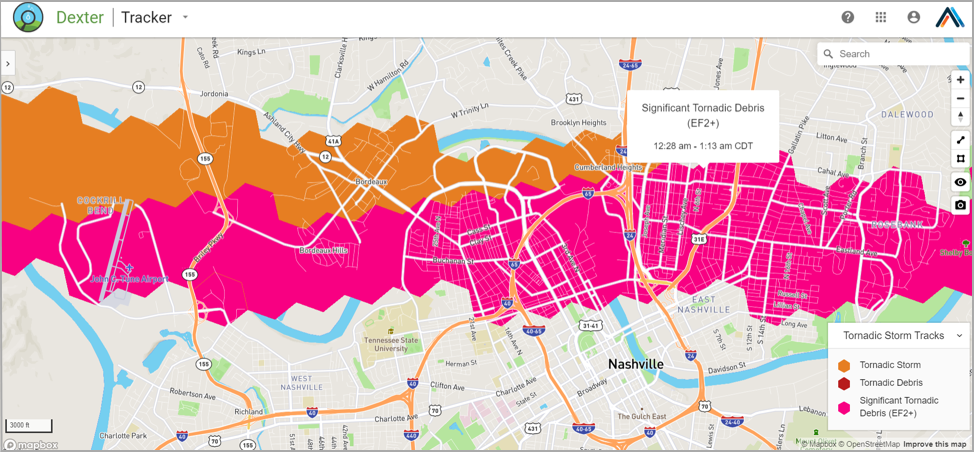 A wider view of the region shows that the tornado's path spanned hundreds of miles. You can see that EF2+ damage signatures were found north of Camden, Tenn., and again through downtown Nashville.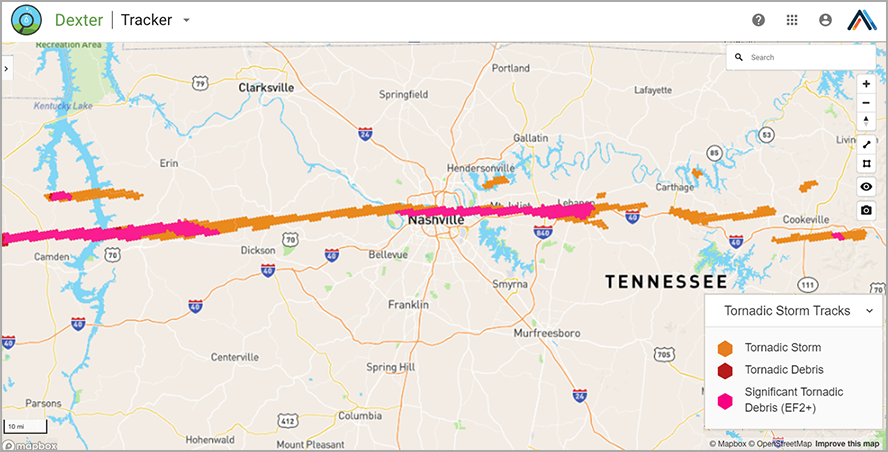 Learn more about the Dexter tornadic storm algorithm and look under the hood at how it works: Download the new whitepaper to explore the technical details of the algorithm and how data is processed.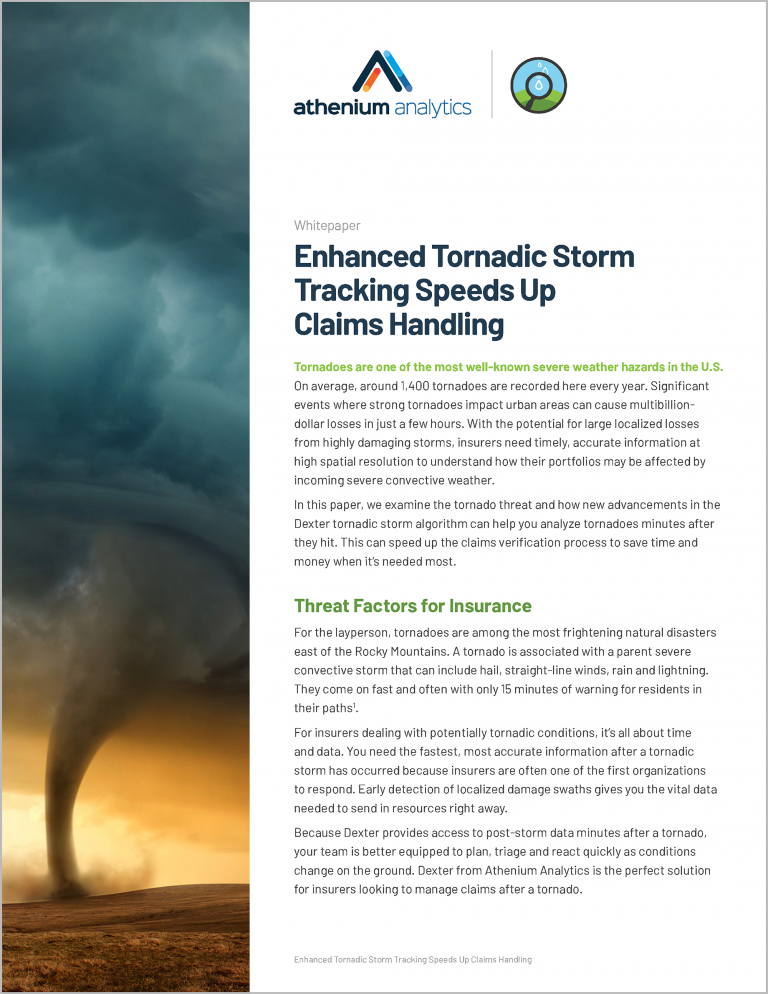 Contact your Athenium Analytics account manager to learn how Dexter can provide your team with hyperlocal weather forensics for tornadoes and other perils that affect your book of business.