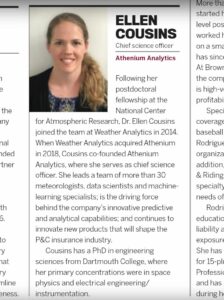 Dr. Ellen Cousins, Chief Science Officer at Athenium Analytics, has been named to Insurance Business America's 2019 Elite Women in Insurance list. The issue celebrates 68 women who are "changing the face of leadership in the insurance industry." Dr. Cousins' recognition on the list puts her in great company, joining influential leaders from organizations like Liberty Mutual, Guidewire, Chubb and AXA XL.
Dr. Cousins joined Athenium Analytics in 2014 as a data scientist and quickly rose up the ranks to executive management. Today, Dr. Cousins leads a team of more than 30 meteorologists, data scientists and machine learning experts and is the driving force behind the company's groundbreaking work in predictive analytics for insurance. Her fingerprints can be found across our product suite and her team is currently hard at work building the next generation of insurtech products.
Please join us in congratulating Dr. Cousins on this wonderful recognition.
To view the full list of Elite Women in Insurance, visit the June 2019 issue of the Insurance Business America magazine.