Claims Signal helps insurers find & address high-risk claims before they close

October 6, 2020 – Athenium Analytics is pleased to announce a new collaboration with Aon Inpoint to develop Claims Signal™, a next-generation claims quality platform that enables insurers to identify and address high-risk claims before they close. Carriers today are under increasing pressure to operate more efficiently, improve the customer experience and manage loss costs. However, more complex claims have historically been monitored manually, with the potential for oversights and errors. In response, Aon and Athenium Analytics have created Claims Signal, a web-based open claims quality platform that assesses, analyzes and improves the quality of claims handling.
This solution enables insurers to uncover any high-risk claim characteristics and provide real-time alerts to help mitigate those risks early in the claims cycle. This new product uses artificial intelligence (AI), natural language processing (NLP) and predictive analytics to continuously examine open claim files and provide actionable alerts for front-line managers. These open-claim alerts allow claims managers to intervene early and provide corrective actions to improve claims outcomes. Aon studies show that this early intervention can not only enhance the policyholder experience, but also achieve an estimated 4-6% improvement in claims indemnity and expenses. John Wang, partner at Aon Inpoint, commented:
"Insurers are always looking to achieve more insights from their claims data. But all too often, we see carriers sitting on a wealth of valuable information with limited tools to leverage it for both their operations and policyholders. The partnership between Aon and Athenium Analytics with the launch of the Claims Signal Platform opens a world of new opportunities for insurers of all sizes. Predictive analytics enables carriers to be proactive instead of reactive. These predictive insights can help improve loss ratio by 2-4% according to Aon analysis, making tangible impacts to the bottom line. That is a big deal."
Bill Pardue, chairman and CEO of Athenium Analytics, added:
"We are delighted to be partnering with Aon to build the future of open claims analytics with the Claims Signal Platform. Aon's insurance pedigree and technical prowess, combined with our predictive modeling, data science and engineering expertise, allows carriers to tap into years of historical claims data to optimize claims, increase customer satisfaction and make smarter business decisions."
The software is available now and compatible with most claims management systems. To learn more about the Claims Signal platform and how it can help your team improve claims outcomes, visit the product page below.
Learn more about Claims Signal
Discover how Claims Signal can help your team reduce leakage and improve claim outcomes using artificial intelligence. Learn more about the new product and request a demo by visiting the product page. Visit the Claims Signal product page »
Join the Claims Signal webinar on Wednesday, October 28
Join Athenium Analytics and Aon Inpoint as we discuss our exciting new collaboration and launch of the open-claim alerting platform, Claims Signal™. The webinar is hosted by Cyrena-Marie Arnold, VP of Customer Success at Athenium Analytics, and Mike Cummings, Principal and Associate Partner at Aon Inpoint. Cyrena and Mike will host a Q&A style session to share details about the collaboration and preview the Claims Signal™ platform, discussing key features and benefits, as well as the development roadmap through the end of the year. Discover how Athenium Analytics and Aon Inpoint are building the future of open claims by joining the webinar on Wednesday, October 28 at 1 p.m. Eastern.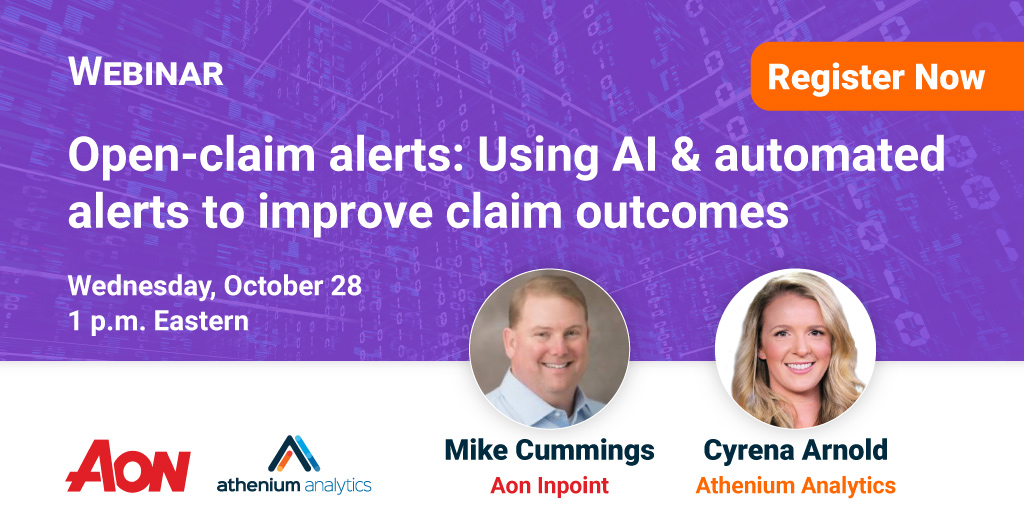 Know someone who may benefit from analyzing and auditing open claims? Share this announcement now using the buttons below.