We are pleased to announce the release of several product enhancements across our suite of weather risk analytics products. We incorporate user feedback and feature requests into our product roadmaps to deliver more value to our customers across insurance, finance and construction. As our customer base continues to grow and become more diverse, we learn about interesting new use cases that will make our products more essential in the marketplace. As a result, our engineering and product teams constantly work behind the scenes on product features and enhancements for our users.
As we push new product updates every month, we'll share our favorites in a recurring blog series. Below are a few of the exciting new features available in our weather analytics dashboard this month.
DexterHurricane recorded storm paths
DexterHurricane now includes the recorded storm paths for all recent hurricanes (Florence, Michael and Barry), which are accessible using the new "recorded path" icon on the right toolbar. The path can be toggled on/off so that users can overlay the path over tracked perils or remove it to simplify visualization. This key data helps provide additional context when investigating a storm's impact.
IRIS roof condition attributes
IRIS users now have the ability to view the roof condition indicators, which contribute to the roof condition scoring of Good/Fair/Poor. This enhancement helps users further understand and act upon contributing factors to roof condition, including "surface deterioration" and "staining." These roof condition indicators are now available for all IRIS users on both the front end interface as well as in a CSV export.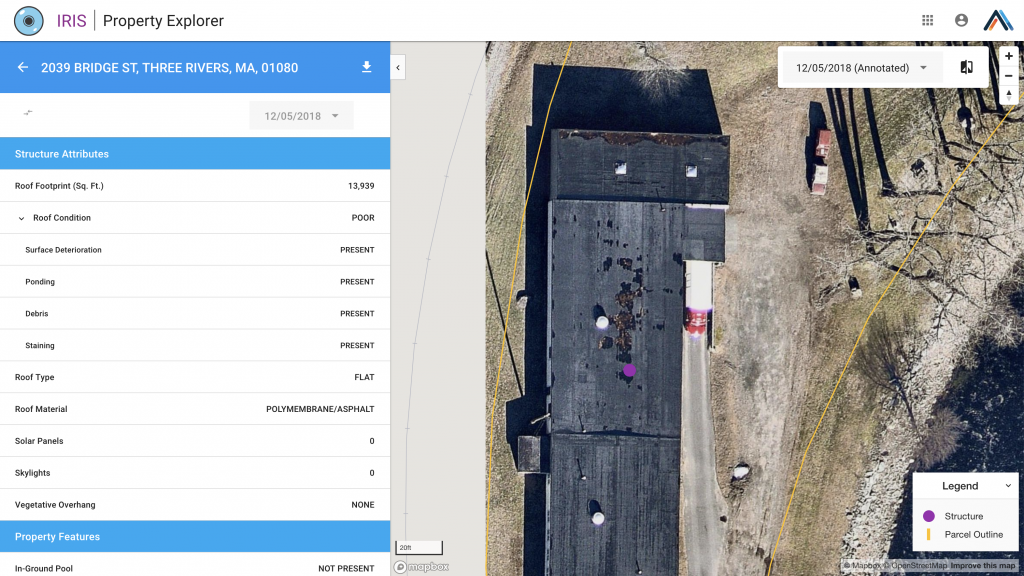 Gauge custom report builder
Thanks to feedback we've received from several clients, Gauge users can now build their own custom peril reports. Users can select which perils (and level of detail) they want to include in their PDF reports before exporting. This feature is especially powerful for our Flood and Wildfire clients. The new PDF risk reports can include risk attributes like property elevation, nearest water body type, height above nearest water body, fire station proximity, landscape type, and more.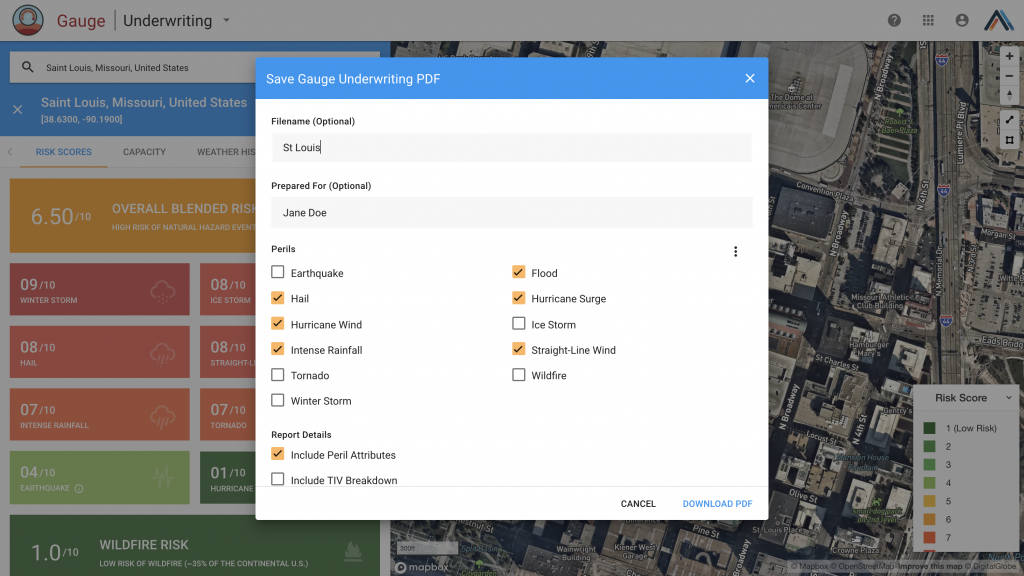 GaugeConstruction tornado alerts
GaugeConstruction now features tornado forecast alerts. The Storm Prediction Center's 3-day outlook enables users to notify sites of the tornadic storm risks for any phase of construction. Like all forecast alerts, tornado alerts are included in both the UI and daily forecast alert email. This feature is now available to all GaugeConstruction users.
We look forward to your continued feedback and encourage you to share interesting use cases and feature requests that we can incorporate into our products moving forward. For more details about these new features–or to add new products/perils to your subscription–please reach out to your account manager by email or through our contact page.