Collaborating with AGC of America on a new weather management dashboard for construction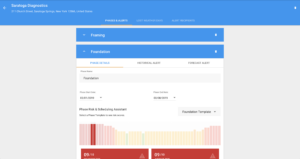 Athenium Analytics is proud to announce the launch of GaugeConstruction, a new weather risk management dashboard that helps builders and contractors measure and mitigate natural hazard risks during planning and construction. GaugeConstruction uses the same predictive analytics and weather risk insights found in Athenium's other products and adapts them for the unique needs of the construction sector. The new cloud-based tool uses custom risk scoring and 40 years of historical weather data to deliver short-term, long-term and post-event weather insights during every phase of construction. Severe weather and natural hazards are the most common cause of construction delays and cost overages. GaugeConstruction is the most powerful software available today to help builders protect their teams, materials and timelines against weather-related risks.
Powerful features to optimize timelines, bidding & personnel
GaugeConstruction helps users optimize their construction project timelines, sites and resources to avoid costly delays associated with extreme winds, temperatures and precipitation. Some key software features include:
Estimate lost weather days based on 40 years of historical averages
View weekly weather risk profiles for each site location and construction phase
Configure thresholds for hail, rain, sleet, snow, temperatures, heat index and wind gusts
Download PDF reports with daily weather summaries for each project location
Customize forecast alerts for weather hazards that affect each job site
Understand risks for each construction phase: Excavation, Foundation, Framing & Enclosure
Verify past weather events with hyper-local accuracy (0.3 square miles)
Access local weather analytics for job sites across the country from a computer or mobile device
Collaboration with the Associated General Contractors of America
We are launching GaugeConstruction in conjunction with the Associated General Contractors of America. AGC of America is the nation's leading construction association, representing over 26,000 member firms and providing a full range of services to satisfy the needs and concerns of its members. Having AGC as a go-to-market ally will not only help accelerate the growth of GaugeConstruction, but also provide access to valuable user feedback as we continue to help construction professionals address complex challenges associated with bidding, budgeting and resource management.
As part of the collaboration with AGC of America, we are pleased to offer AGC members a 30% discount on monthly or yearly subscriptions when they signup using an AGC member ID. Learn more about features and pricing by visiting the resources below.
Live demos at the AGC convention
Members of the Athenium Analytics team are attending the 2019 AGC Convention in Denver, Colorado. The conference begins on Monday, April 1 and runs through Thursday, April 4. Our team will be available each day to conduct 20-30 minute product demos. If you're interested in viewing a demo of GaugeConstruction, please email construction@athenium.com to schedule a date and time.
Learn more About GaugeConstruction