3 essential benefits of geospatial imagery analysis for claims and underwriting

Property and structure condition is vital when a P&C carrier is writing a policy, assessing a renewal or processing a claim. If you do not know the actual characteristics and condition of a structure, can you ever feel confident with it in your book? All too frequently, the only source of actual condition is a costly, time-consuming, subjective property inspection.
But times are changing: Empowered by cutting-edge technologies, underwriters and claims adjusters can confidently assess properties with high-resolution images and AI-based analyses.
Athenium Analytics gives you this peace of mind with IRIS, our high-resolution imagery assessment and AI-based analysis solution that can locate individual properties, assess risk, verify damage and detect changes at a granular level.
IRIS puts machine-learning technology and an army of computer vision bots to work for your business at a fraction of the cost of an in-person property inspection. Using high-definition aerial imagery assessment, IRIS can review and annotate property and structure features and prepare reports to simplify and streamline your decision-making process.
Here are three simple ways IRIS will revolutionize your business processes today. 
1. Analyze risk without an on-site inspection

Review accurate information on property characteristics without sending an assessor on site, saving time and money as your team analyzes properties for risk selection and policy renewal. Using IRIS aerial assessment, you will quickly have information on these key risk factors:
What roof materials and types are on a property, and what conditions are they in?
Are there skylights and/or solar panels?
Does the property feature an in-ground or above-ground pool and/or a trampoline?
Does the property include multiple structures that would complicate risk exposure?
Armed with visual proof, your business will write and renew policies more representative of the present risks.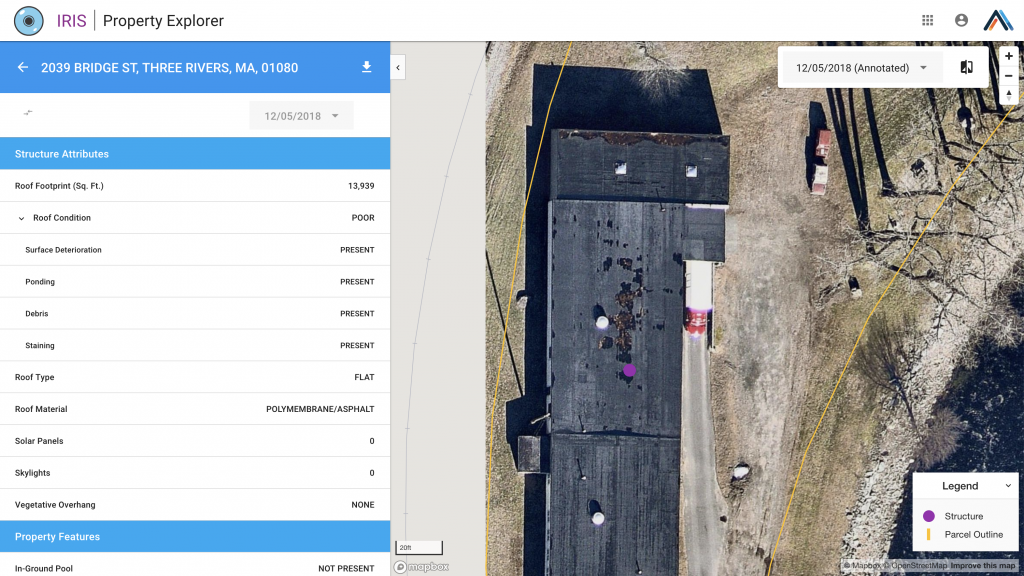 2. Manage your book of business with trend analysis
I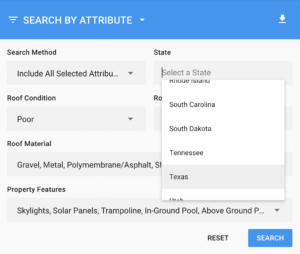 RIS integrates policy data to collect and parse property and rooftop information to allow for easy searching and sorting. The software enables leaders to sort and review their book with new granularity to create and modify reports of physical and geographic attributes at the state or local level:
Which properties have fair and/or poor roofing conditions?
Which properties in a state have flat roofs?
How many properties with good roofs are in this geographic region?
IRIS reports include overall roof conditions with grades of good, fair and poor. Underwriters can drill into individual reports to review the grades in detail.
3. Detect changing conditions over time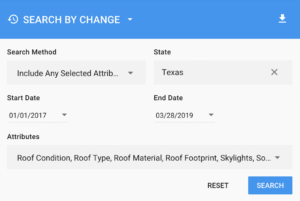 It's critical to understand the changing and evolving risks inherent in properties and their surrounding areas. For policy renewals, users can view the visual history of a property through IRIS annotations. This feature analyzes properties across multiple dates and highlights the key differences:
Has this property changed its square footage since the last policy update?
Have the roof conditions degraded or improved over time?
Has a storm recently impacted this area and the properties located within it?
With these insights, carriers can gather and analyze additional data and use their intrinsic knowledge of the property and surrounding area to make smart decisions. Claims personnel have insights regarding roof condition to understand if a structure was damaged prior to the most recent storm.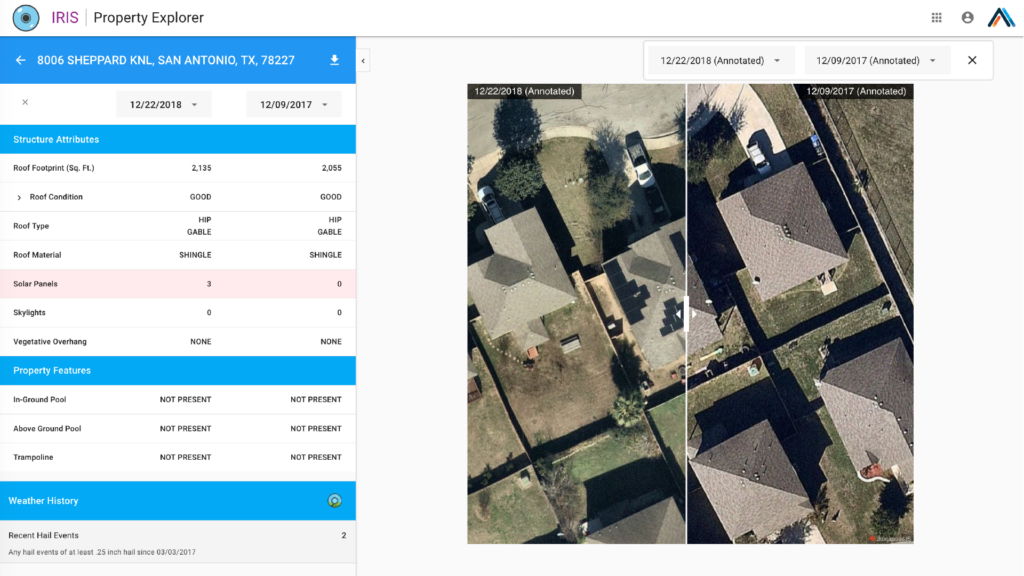 The power of imagery

Accurate policy-writing and claims verification allow your business to better prepare for risks and any claims that may come from them. With IRIS aerial imagery assessment, you gain the ability to more clearly see the properties in your book, so you can make better decisions for your business. .
To explore the possibilities of IRIS, contact our sales experts today for a free demo.